Hewwo! I wanted to toss out some recipes from the blog that are perfect for Thanksgiving (or any other day, but we'll concentrate on Thanksgiving for now 😛 ) Enjoy, have an absolutely wonderful Thanksgiving day, don't eat too much and enjoy the company of those you love! <3
Insanely Cheesy And Creamy Mac & Cheese
This is definitely my most popular mac & cheese recipe and with good reason. It serves a large crowd, so it's perfect for this time of year and it tastes amazing! Insanely Cheesy And Creamy Mac & Cheese

I just posted these yesterday, but I wanted to make sure they got into this compilation. These are the best mashed potatoes I've ever had or made and I've been making potatoes for longer than some of you have been alive! Ultimate Buttery Sour Cream And Onion Mashed Potatoes

This Chilled Caprese Tortellini Salad is utterly delicious and so easy to put together. It gives you a side dish that doesn't take a lot of work on a day when all you DO is work!
We all totally love this Orange Marmalade Brown Sugar Ham Unless I'm in the mood to experiment, this is the only way I make ham anymore. It is great hot, room temp and makes excellent leftovers for sandwiches on a hearty thick sliced bread.
Speaking of bread :-P, this Brown Butter Blueberry Maple Cornbread may not be the type you'd make a sandwich with, but it's oh so nice to have around!
On the other hand, one of my favorites for the holidays is my Loaded Baked Potato Bread. You can make this a couple days ahead of time and it's such a moist, sturdy bread, that all you'll need to do is give it a gentle reheating and it will be wonderful with dinner and make great leftover turkey or ham sandwiches later.
I know this is a horrid photo; it's from one of my oldest posts, but these Oatmeal Rolls are amazing! These are my family's favorite rolls, ones that I turn to anytime I want rolls instead of loaf bread. You can't tell the oats are in there, but they add so much flavor and moistness. I always recommend these for beginning yeast bakers.
I have yet to meet a person who doesn't love this Old Fashioned Chocolate Cake With Chocolate Icing . It's always a hit and a nice change from all the pumpkin and pecan everything this time of year.
Or, if you're like me, you love the flavor of fruit pies, but you hate that pesky making the crust part? Well, forget crust… use streusel! 😛 My Old Fashioned Apple Crisp is beyond easy and one of my favorite desserts. I've made it multiple times in the last few weeks.
Or if you want something even more old fashioned and homey, Wednesday night after all the other prep is done, throw this in the oven while you watch some TV and relax. Pound cakes always go over well and this Blueberry Grand Marnier Brown Butter Pound Cake is one of the best you'll find!
You and I both know you're going to have leftover turkey, right? So what better way to use it up than in this Quick And Easy Turkey Bacon And Cheese Chowder ? This is fairly quick, really easy and so darn creamy and delicious, you'll want to swim in it.
If you're looking for another apple type dessert, you can't beat my Worlds Best Apple Spice Cake With Vanilla Butter Sauce. Yes, I said worlds best. Would I lie to you?
I made this Cranberry Apple Cake for the first time last year and it immediately became a family favorite! I can NOT say enough good things about this cake. Please make it or I'll cry!
Here is another recipe for that leftover turkey. I know, the recipe says Creamy, Cheesy White Chicken Enchiladas, but I think you would have figured out for yourself that turkey can be substituted for the chicken, right? :-p
And of course you need something to drink, correct? This Spiced Pumpkin Latte is a nice warming drink with the perfect flavors of the season. You could also…ahem… make this a bit more adult with a shot of something in it. Just sayin'.
It's Thanksgiving- you have to have pumpkin pie. It's the law in all 57 states and 9,433 countries. So, if you're going to have pumpkin pie, make sure it's the best. This one- Decadent Extra Creamy Pumpkin Pie In A Cornmeal Crust definitely qualifies.
I've often wondered what makes certain things holiday traditions, but pecan pie is seriously up there on the list of things you have to have. Did I mention that whole "it's the law" thing yet? While this isn't the one I have made for many years, this Deep Dish Pecan Pie is awesome. It makes enough for one heck of a big crowd and isn't quite as sweet and rich as the typical pecan pie. If you search through here, you can find the pecan pie I usually make. I just couldn't bring myself to post it because it has to be in the record books as one of the worst photos ever taken of something that is actually utterly delicious 😛
Two last recipes for the leftovers for you.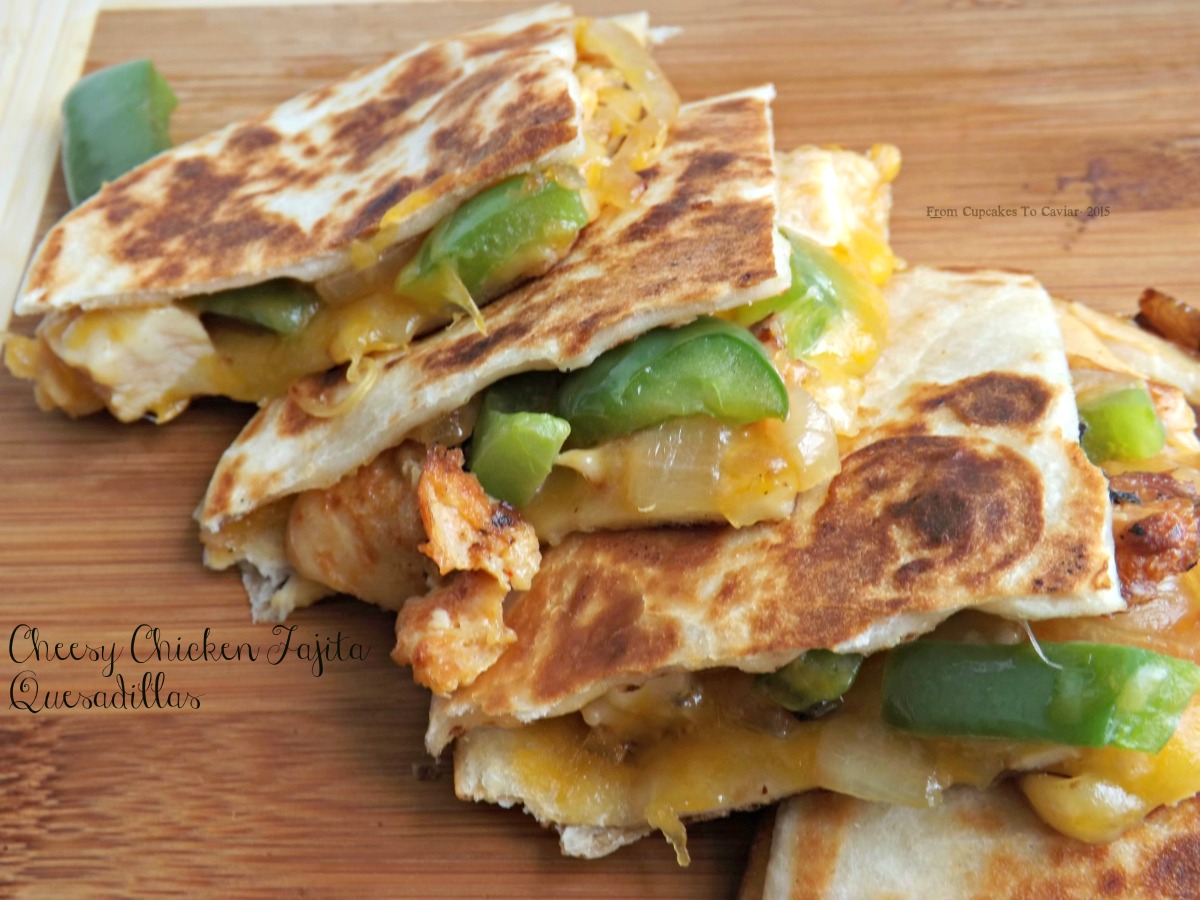 I adore these Cheesy Chicken Fajita Quesadillas . I came up with them earlier this year when I wanted something crispy yet gooey. Turkey would work just fine in here.
And then there is….
these Cheesy Chicken And Chorizo Enchiladas. These are great if you want a bit more spice than the other ones I posted. Soooooo good!
So there you have it. 2015's Thanksgiving picks. Have a wonderful Thanksgiving and know that I totally adore all of you! Well, not YOU, cause you deleted and blocked me on facebook recently for no reason other than you are friends with a woman I can't stand and you are a follower. 😛 But everyone else? Have a great Thanksgiving! (Sorry; I couldn't resist that last bit, lol)