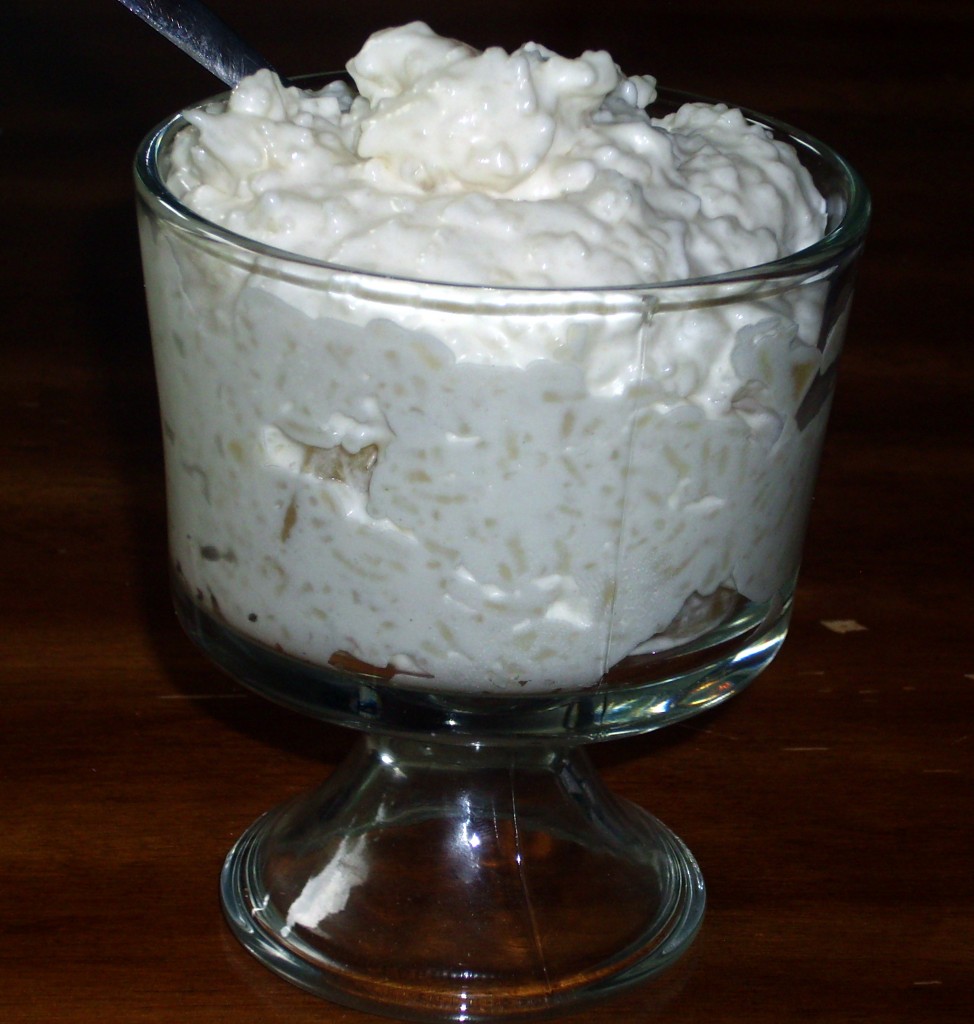 I have heard a lot of people decry pudding as a boring dessert alternative. I completely disagree. Pudding is awesome darn it! Smeared all over… ok, wait, let's change the tangent I was about to go off on there. My bad. :-PÂ  Where was I? Pudding is awesome. When I was a kid back in the 60's and 70's (yes, I'm older than most other bloggers. I like to think that makes me wiser and smarter and more experienced and a better cook… and far cuter. Or something like that.) when most women were entering the work force for the first time, pudding meant the dry powder in a box mixed with milk because none of our mothers had the time to actually MAKE pudding home made. I have to admit to still having a certain fondness for the Butterscotch flavor. I still buy it as well as the newer types of pudding that have come out. The Jello Temptations are pretty darn good and are low calorie and Jello brands sugar free Creme Brulee Rice Pudding is…wait for it… "to die for" *grins cause you all know what I think of that phrase 😛 .
But rice pudding for me has always been a sort of comfort food and nothing beats home made. But… *sighs deeply*… being me, I am never content to leave well enough alone. Nooooooo… I have to mess with things I like to try and make more things I like. Like I did last night with rice pudding. Mind you, it worked. Quite nicely. But now I have a craving for regular warm rice pudding covered in a few pounds of Cinnamon (sorry Ann … I know you can't do Cinnamon. But that's why you should keep reading :-P). But until I decide to make that, this is a wonderful Summery alternative. If you like coconut (no coconut pieces in it cause I just don't care for the texture as much as I love the flavor) and Pineapple, you should love this. Plus, if you want to lighten it, it can be done by using low fat coconut milk, lighter milk and light or fat free whipped topping instead of the heavy cream. The Greek yogurt in this adds a nice tang as well as some extra nutrition. All in all, while this isn't exactly great for you (this IS me after all 😛 ), it's certainly not BAD for you either if you use lighter ingredients. I hope you like it! There was no way to really photograph rice pudding to make it look exciting lol, but it sure does taste good 😀 This makes a lot so it could be cut in half if needed.
 Pina Colada Rice Pudding With A Greek Yogurt Twist

4 cups cooked rice (I used leftover Basmati Coconut rice but any cooked rice would do. I actually think this would be better with plain white rice. )
2 cans coconut milk (I used full fat cause the low fat tastes watery to me in all the brands I have tried but you could sub low fat)
1 cup milk
2 cups sugar
1 teaspoon coconut extract
1 tablespoon vanilla extract
1 20 ounce can pineapple chunks, well drained
1 cup heavy cream, whipped or 1 1/2 cups whipped topping
1 cup Greek yogurt (I used honey flavored because it was what I had on hand)
In a medium heavy bottomed (preferably non stick) sauce pot, combine the cooked rice and the coconut milk. Stir well to mix. Over medium heat, bring the mix to a gentle boil stirring very often.
Turn heat down to low (I had it on two) and cover. Cook the rice until all the liquid is absorbed, stirring frequently to prevent sticking. Mine took about 30 minutes.
Pour mixture into a large bowl and cover and refrigerate until chilled, at least 2 hours.
When rice is cold, mix the whipped cream (or whipped topping) with the Greek yogurt.
Break up the rice pudding (it will be stiff) and fold the cream/yogurt mixture into it.
Add the drained pineapple and mix well. Refrigerate until you're ready to serve.